The Best Gaming Mouses (2023) – According to Pro Gamers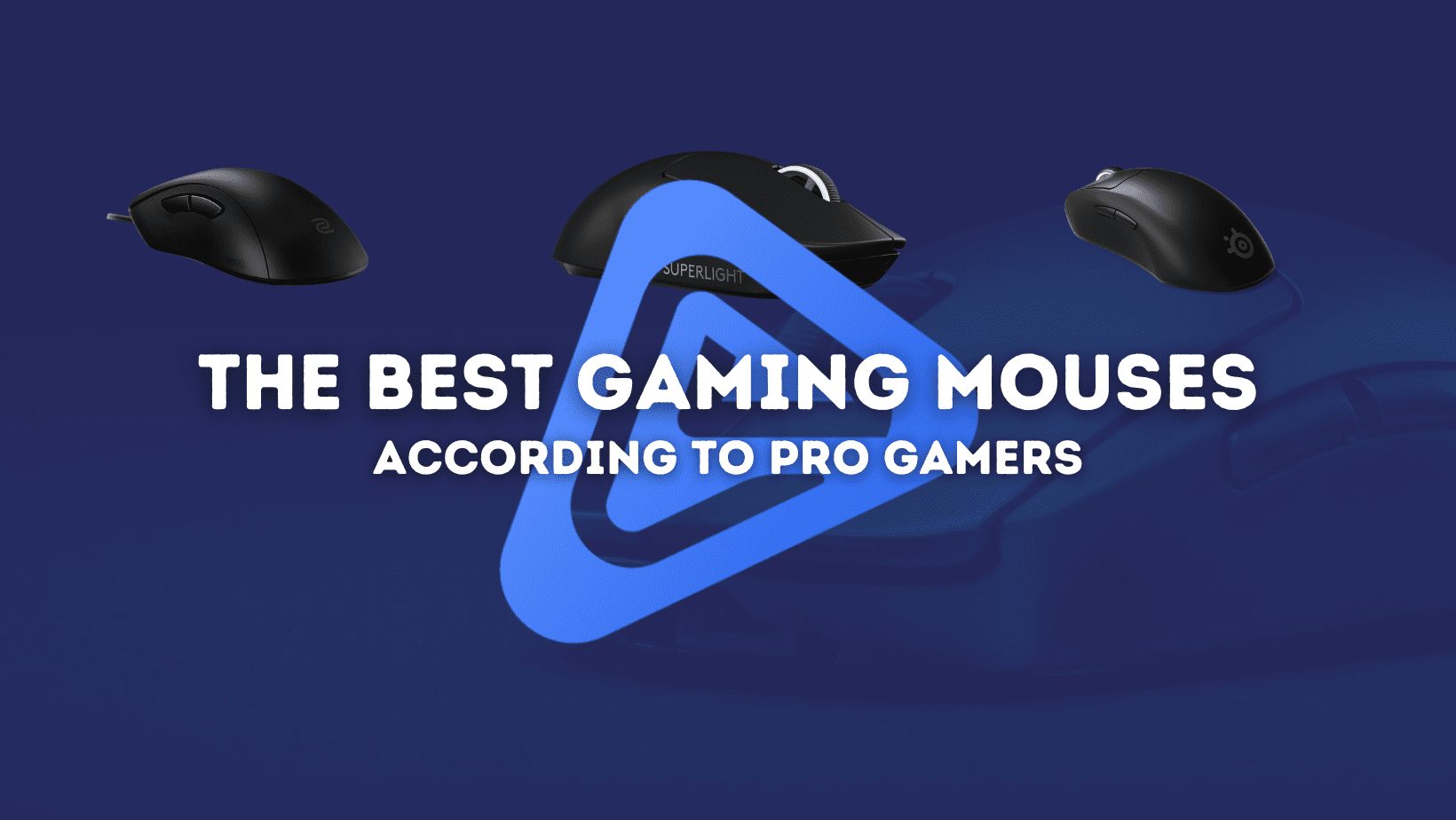 While an average gaming mouse can definitely do the job, many gamers – casual and professional esports players alike – notice a distinct difference when they switch to the best gaming mouse they can find. It isn't just about style and branding, but functionality and practical features too.
There isn't a single great gaming mouse that suits every person, but buying one of the best mice on the market will definitely have an impact. Many professional players with solid image credit their image improvements to their equipment, including their mice.
The right mouse can make you faster, give you more control over your games, or even offer programmable buttons for emergency macros.
The best gaming mice for FPS and Battle Royale players
FPS and battle royal games can create some of the best gaming experiences out there, but a simplistic gaming mouse can really limit your tactical options. Switching to other gaming mice can make you far more flexible – for example, one of the four mice below.
Logitech G Pro X Superlight Wireless (used by s1mple, electronic, m0NESY, derke)
USED BY S1MPLE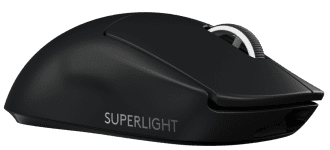 Our editorial team plays with this mouse!
Height: 4.92in (125 mm)
Width: 2.50 in (63.5 mm)
Depth: 1.57in (40 mm)
Weight: <2.22 oz (63 g)
Battery life: 70 hours
The Logitech G Pro X Superlight is a solid, reliable wireless gaming mouse that sticks to an ergonomic design and straightforward thumb buttons. This is one of the lightest mouse options you will find, and the added wireless connectivity allows for much more freedom of movement on the mouse mat.
This is an ideal gaming mouse option for anybody who's looking to get something light, simple, straightforward, and consistent. While other future brands may offer more mouse features, the Superlight will serve you well across any game genre, keeping you in full control. Compatibility with the Logitech G Hub software for added customization doesn't hurt, either.
Logitech G Pro Wireless (used by Ethan, Spinx, STYKO, shox)
Height: 4.92in (125 mm)
Width: 2.50 in (63.5 mm)
Depth: 1.57in (40 mm)
Weight: 2.82 oz (80 g)
Battery life: 48-60 hours
The Logitech G Pro Wireless is a wireless mouse with programmable buttons, a perfect mouse sensor, and a simple yet light design that offers maximum control. This simple shape makes it a great wireless mouse for people who are used to conventional wires mouse designs.
This wireless mouse has a battery life of up to 60 hours, adding up to plenty of use no matter the game you're playing. The scroll wheel has the added benefit of being easy to click down – giving you an extra button to work with, and the consistent palm grip gives you excellent control over each movement.
BenQ Zowie EC2 (used by dev1ce, Aerial, HEN1, stavn)
DPI: 400 / 800 / 1600 / 3200
Width: 1.57 in (63.5 mm)
Depth: 4.72 in (40 mm)
Height: 2.28 in (57 mm)
Weight: 3.17 oz (90 g)
The Zowie EC2 is an asymmetrical wired mouse that boasts a smooth surface and multiple possible gripping positions. This makes it one of the best mouse options for people who need a natural fit, replacing the awkward designs of a typical budget gaming mouse.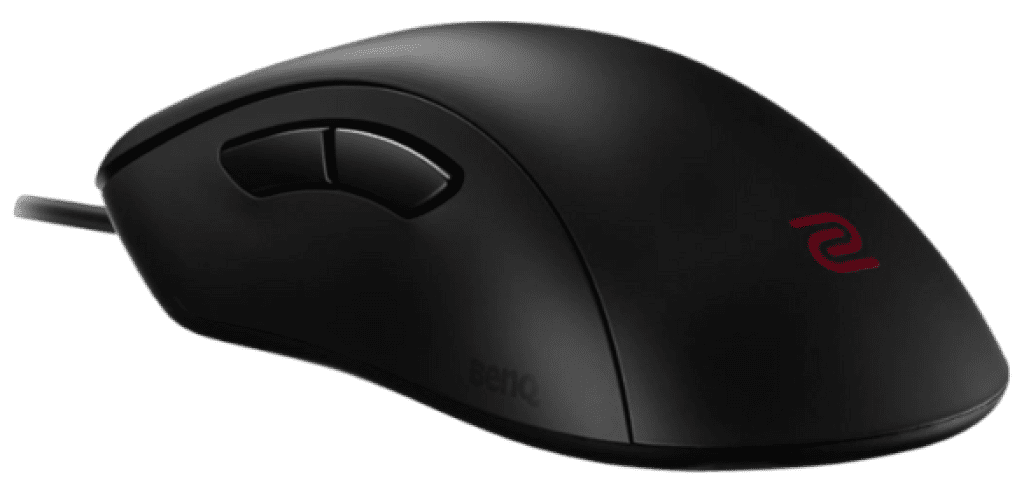 As a plug-and-play option, it can offer much faster setup times than a lot of wireless gaming mice and boasts a two-meter cable that can suit any desk or playing space. Even if you tend to prefer wireless options, this is a versatile mouse that suits both a claw or palm grip with ease.
This added comfort makes it a great choice for all kinds of games, giving you a level of comfort and control that all gamers prefer regardless of their chosen genre.
Razer DeathAdder V2 (used by dexter, Frozen, ngiN, hampus)
Length: 5 in (127 mm)
Grip Width: 2.43 in (61.7 mm)
Height: 1.68 in (42.7 mm)
Weight: 2.88 oz (82 g)
In the eyes of some professionals, the Razer Deathadder is one of the best wireless gaming mouse options on the market. It trades the simple design of some other best gaming mouse options for a more tech-focused look, allowing for unique grip positions based on your preferences.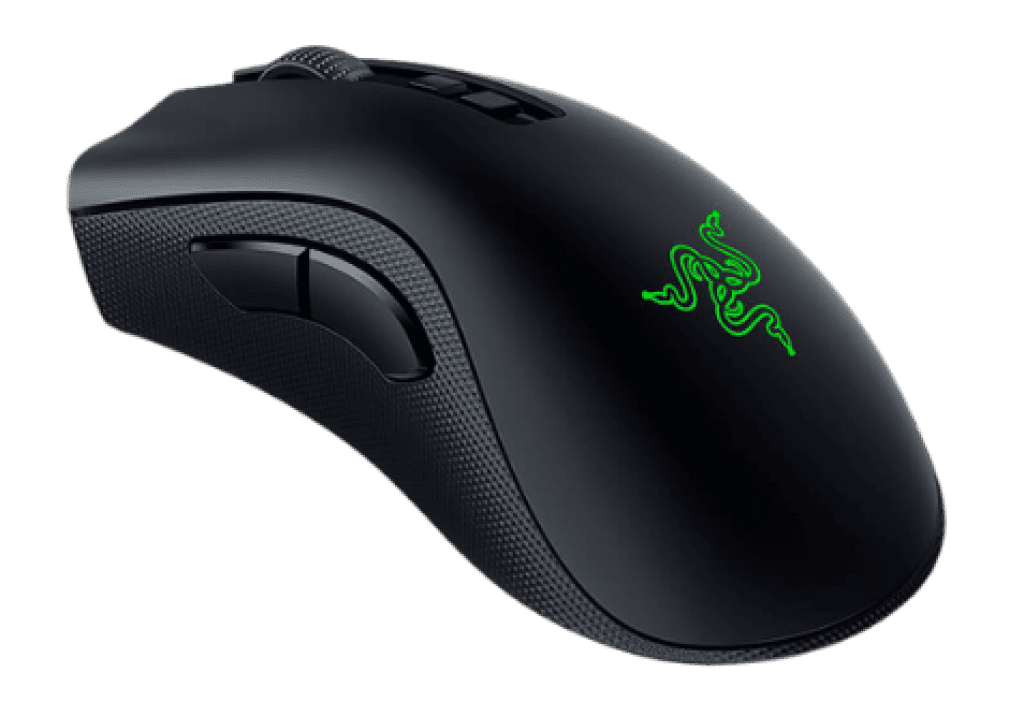 Ergonomics aside, this mouse offers a lot of control, giving you a low-latency connection and a consistent sensor that can really work well for any game genre. Different models of the Razer DeathAdder V2 also have different options beyond Bluetooth connectivity, giving you optional wires if you prefer to use them.
The DeathAdder really stands out – it rarely needs an image credit in articles, since most professional players and fans can recognize that distinct style anywhere.
The best gaming mouse for MOBA and RTS players
MOBA and real-time strategy games can demand a lot of skills that you won't need for most first-person shooters, but having the right gaming mouse can contribute a lot to that. The best gaming mouse options for these games can be vastly different from the best gaming mouse choices for some other genres.
Logitech G Pro Wireless (used by Selfmade, Upset, Milica, CoreJJ)
Height: 4.92in (125 mm)
Width: 2.50 in (63.5 mm)
Depth: 1.57in (40 mm)
Weight: 2.82 oz (80 g)
Battery life: 48-60 hours
As mentioned above, the Logitech Wireless is great for FPS games, but it can also have a huge impact on your MOBA and RTS performance. Visually, this mouse looks like a wireless version of a normal office mouse, but that only makes it easier to adapt to.
As one of the lighter mice on the market, it can be a great starting point for aspiring professional gamers, or a good gaming mouse to swap to if you're used to using a normal budget mouse. If you're already an experienced gamer, then this can be a good all-purpose option for a range of different uses.
Razer Naga Pro Trinity Gaming Mouse
Height: 1.69 (43 mm)
Width: 2.93 in (74.5 mm)
Weight: 0.257 lbs (117 g)
Battery life: up to 150 hours
The Razer Naga Trinity is a modular RTS, MOBA, and MMO gaming mouse with an entire set of programmable buttons, making it one of the best-wired gaming mouse options for serious players. Between the buttons and the scroll wheel, you can get a massive amount of control and functionality that other mice can't offer.
The side panels can be swapped out through magnetic catches, allowing you to choose from a radial menu, a phone-style set of twelve buttons, or a flat panel that offers two distinct buttons. These can all be programmed for different games or purposes, giving you multiple preset options saved to onboard memory.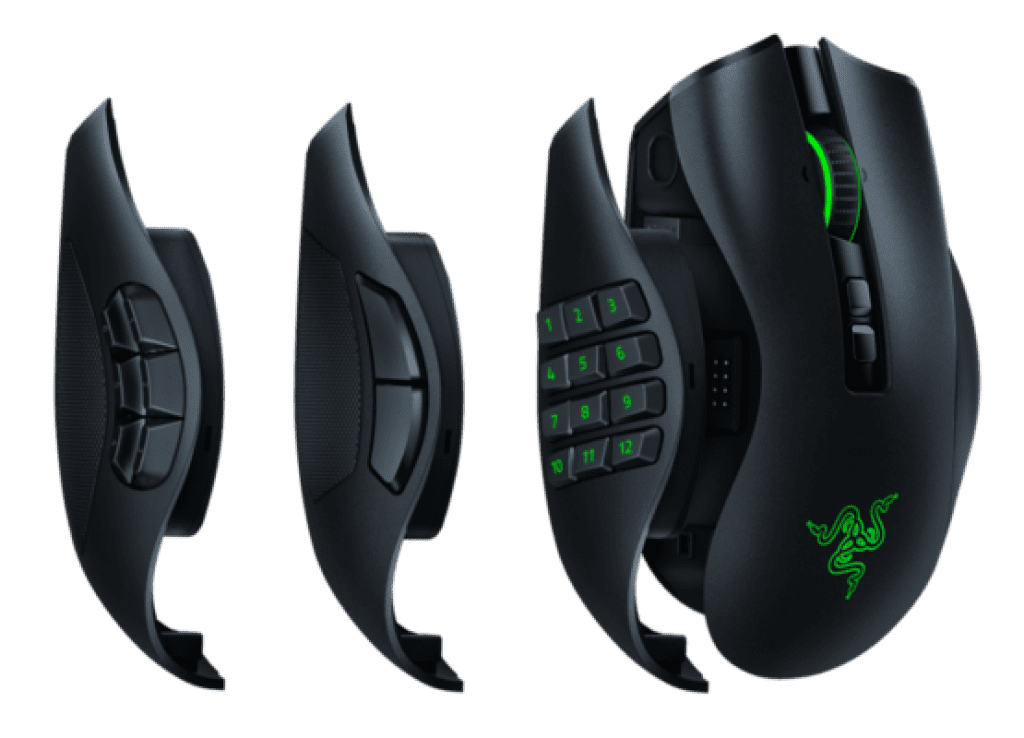 SteelSeries Prime (used by Topson, Ceb, N0tail, MidOne)
This simple, sleek wireless option provides no-lag control and over 100 hours of battery life, making it a great all-around option for any game genre. Not only does it look amazing, but it functions better than most other mice on the market.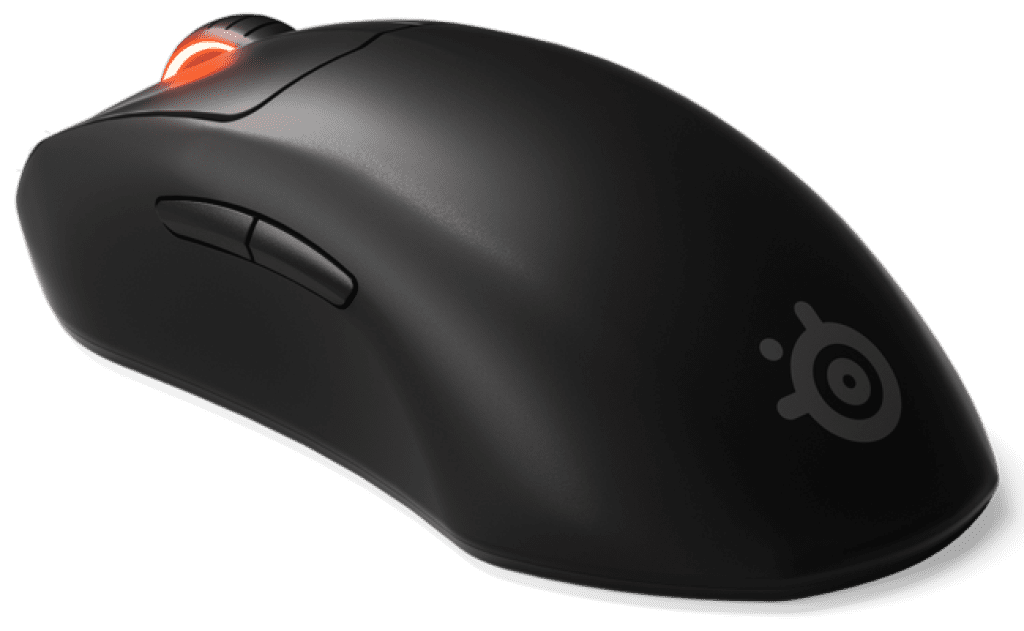 Long-time gamers can rely on their muscle memory here, whereas brand-new players will find it incredibly easy to learn the quirks and habits needed to make this mouse a perfect tool for their gaming arsenal.
Logitech G703 LIGHTSPEED (used by Jankos, Mikyx, Tactical, WhiteKnight)
The Logitech G703 Lightspeed is a high-performance lightweight mouse that boasts better sensors, tracking, and latency than many other wireless mice. Lasting up to 35 hours of gaming time on a full battery, and can work with the POWERPLAY wireless mouse charging system.
The design of this mouse is aimed at comfort and quality, using a reliable and well-crafted tension system in both main mouse buttons to give you a responsive click. It also provides a good surface for you to grip comfortably, regardless of how you like to play.
Other Wireless Gaming Mouse Runners-Up
With so many mice on the market, it's very hard to go over each one in detail. If none of the mice above appeal to you, then maybe some of these will. Looking for the best gaming mouse means comparing all of your possible options, after all.
Corsair Harpoon RGB Wireless
This wireless mouse can be customized with six adaptable buttons and dynamic RGB lighting.
If you test gaming mice to find the option that suits you, then the Harpoon is going to leave a solid first impression – especially since you can choose either built-in RGB lighting or create your own RGB lighting effects.
Logitech G502 Lightspeed
This updated Logitech mouse takes elements from their older gaming mice and twists them into one of today's best deals. A sleek design, great battery life, and excellent wireless connection make this a great option to grace your mouse pad.
Razer Basilisk V3
The Razer Basilisk V3 is a very solid, reliable mouse that can function really well across many games. While it's wired-only, it still offers amazing results at all levels of gaming intensity. The distinct design means that it rarely needs an image credit in professional circles – people will recognize it.
Razer Basilisk Ultimate
The Ultimate has both a wired version and a wireless option, both of which work incredibly well. Great scroll wheel resistance and a reliable sensor make this far more effective than a cheaper mouse.
Razer Viper Mini
If you're an up-and-coming professional gamer and want to improve your image, credit Razer with the sleek style this mouse can offer. This light mouse can provide a low lift-off distance and easy control at all times.
Logitech G203 Lightsync
The Lightsync has six buttons and a range of adjustable lighting features, giving you some great ways to customize your gaming experience while sticking with wired mice that you can trust. The design is ergonomic enough to offer support for your whole hand, ring finger included.
Razer HyperSpeed Wireless
Like before, if you care about your image, credit Razer for its excellent and stylish mice that really stand out at public events. This is one of today's best deals when it comes to controlling and responsiveness, mostly thanks to wireless connectivity reasons – this mouse uses specialized HyperSpeed technology to keep pace with its wired counterparts.
Which should you choose?
There's no perfect option when it comes to gaming mice, and all of them can be completely different in terms of specifications or features. Today's best deals all depend on what you're actually looking for.
Prices powered by the market are constantly going to change, especially as new mice release, so it's a good idea to keep an eye on the mice that you want.
The best option
At the end of the day, there are no perfect mice for every situation. Each leading digital publisher or mouse hardware/software company has their own idea of how to design a mouse, and no two mouse models are going to be completely identical.
Tracking down a mouse that you like can involve a lot of odd steps: seeing ads, following image credit links, or even stumbling into it by accident. A lot of gamers can tell when a mouse is right for them, so exploring your options is always the right choice.