All About Esports
Discover the world of competitive gaming.

Whether you're a competitive player looking to go pro or a casual gamer looking to connect with like-minded people, there's a place for you in the world of esports.
ESPORTS LIVE STREAMS
Watch professional and casual players from around the world compete in a variety of popular esports games such as League of Legends, Dota 2, Valorant, and Counter-Strike: Global Offensive, as well as coverage of the biggest esports tournaments and events.
VIDEOS
ARTICLES
Covering the different aspects of the esports ecosystem: the professional scene, the gaming community, the streaming platforms, and the business side of things. Whether you're a fan of esports, or you want to gain a better understanding of the current state and future of the esports business, you have come to the right place.
GAME GUIDES
Guides to the most popular and competitive video games in the esports scene. From first-person shooters to real-time strategy games, we cover a wide range of games that are played at the highest level of competition.
GAMING GEAR REVIEWS
Reviews of the best esports equipment and technology.
FAQ
Esports, short for "electronic sports", refers to competitive and organized online gaming. Some of the most popular esports titles include Valorant, CS:GO, Rocket League, Overwatch, League of Legends, Call of Duty, Dota2, and Apex Legends. These games are watched and followed by millions of fans worldwide.
But it's not just about entertainment in the world of esports. It's also a major trend that offers economic opportunities for companies in the industry. Streaming platforms like Twitch and YouTube are capitalizing on the popularity of esports by providing services that benefit both players and viewers, contributing heavily to the growth of the industry.
Add streaming platforms Twitch, Youtube Gaming, and Theta to your browser bookmarks to have fast and easy access to esports live streams. Unlike traditional sports events, esports events are not often broadcasted by your local TV channel.
WHAT IS THE SIZE OF THE ESPORTS INDUSTRY?
The value of the esports industry was estimated to be in the $950 million range in both 2019 and 2020. But in 2021 it surpassed $1 billion for the first time ever.

The value refers to the global revenue the industry creates. Currently, China is the market leader by size followed by the US. Western Europe holds 3rd place in 2021. All regions combined account for approximately 80% of the total $1.08 billion.

The market is expected to continue growing at a fast, double-digit pace. This means, by the time of 2024 analysts believe the market will be in the $1.6 billion range.
WHICH COUNTRY IS NUMBER 1 IN GAMING?
The United States is the biggest gaming market in terms of revenues.
Statista – a leading provider of market and consumer data – estimated that in 2022 the United States generated a revenue of 54.9 billion U.S. dollars, while China, driven by Tencent, generated an estimated 44 billion U.S. dollars in annual gaming revenues.
WHICH COUNTRY HAS THE BEST ESPORTS PLAYERS?
By a clear margin, China has the best esports players of all time – when looking at the amount of prize money awarded.
China – $236,259,378.53, with 6,693 players,
United States – $223,124,251.94, with 23,536 players
South Korea – $125,602,759.61, with 4,999 players."
The numbers are taken from Esportsearnings.com
WHAT ARE THE POPULAR ESPORTS GAMES?
League of Legends is probably the most popular esports today and has over 80 million monthly active players worldwide. Fortnite with 70 million monthly active players takes the clear 2nd place.

The amount of players playing video games does not tell the whole story of popularity though. Considering the total prize money awarded the title goes to DOTA 2. So far over $270 million has been given away in prize money from over 1 500 tournaments. CS:GO and Fortnite is reasonable runners-up. Both boast over $100 million given away in tournaments.

The average prize money per tournament is lower in CS:GO though, compared to DOTA 2 or Fortnite. This is due to a number of smaller CS:GO tournaments organized, according to Esportsearnings.com.

Another measure of popularity is viewer count. League of Legends is the most-watched game in hours – by a mile. Considering it also has the most active monthly users, it is easy to give it the title of the most popular esports game. According to open sources, 208 million hours of League of Legends were watched in just October 2021. The same figure for DOTA 2 was just short of 100 million.
WHAT ARE THE POPULAR ESPORTS GAMES THAT CAN BE PLAYED ON MOBILE?
Some popular mobile esports games include PUBG Mobile, Call of Duty Mobile, Vainglory, Free Fire, Clash of Clans, Mobile Legends: Bang Bang, and Arena of Valor.
WHAT ARE THE BEST ESPORTS TEAMS?
All-time best earners are Team Liquid with almost $40 million in prize money at the time of writing. They are true veterans in the esports space, having started in 2000. Team Liquid competes in 14 of the top games including DOTA 2, CS:GO, and Fortnite.

Only one team comes even close and that's OG. They have won over $35 million in prizemoney and several major titles. The team's slogan: Against All Odds tells their story. Going from zero to having millions of fans around the globe does not come for free. OG later signed multi-million sponsorship deals with BMW and Red Bull.

Lastly, Fnatic is a guaranteed fan favorite, considering their thesis to keep 1,5% ownership of the club to fans. Their all-time earnings as a team are on the better side of $17 million. Crypto.com also believes in them, considering the $15 million deal they signed for 5 years.

What makes esports all more interesting is the relationship fans can build with teams. We like to feel united and share success. Supporting and following your favorite team enables you to immerse yourself in the sport.

In esports, money talks when measuring success. The higher the prize, the more prestigious the tournament is. And naturally, the harder it becomes to win it. It's simple and makes it extremely easy to compare teams' performances.
HOW DO ESPORTS PLAYERS MAKE MONEY?
Professional esports players are usually getting a monthly salary paid by their team or organization. On top of that, professional gamers can make money through tournament winnings, sponsorships, and partnerships with brands. Esports content creators can earn money through sponsored posts, affiliate marketing, and brand partnerships. Additionally, TikTok and Instagram have monetization options such as live streaming or branded content options for ones with a large following.
No, esports can be played on a variety of platforms including PC, console, and mobile devices. Popular esports titles like League of Legends, Fortnite, and Overwatch are available on PC and console, while games like PUBG Mobile are played on mobile devices. There are also esports tournaments for games that are exclusive to certain platforms, such as the annual Halo Championship Series for Xbox players.
ARE MOBILE ESPORTS CONSIDERED AS "REAL" ESPORTS?
Yes, mobile esports are considered legitimate esports. Many mobile games have dedicated professional scenes and tournaments, and the skill level required to compete at the highest level is just as high as it is for PC or console games.
RECOMMENDED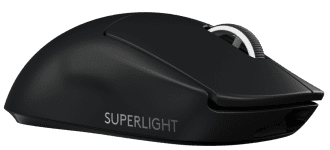 G Pro X Superlight Wireless is one of the best wireless gaming mice you can find on the market.